Donate Now
The Bowsher Athletic Hall of Fame has some exciting news to share with the Rebel Alumni Family! We're in the process of planning events to honor some of our very own.
The Athletic Hall of Fame wall at Bowsher will soon be known as the Charles Darnell & Ed Boblitt Athletic Hall of Fame, in memory and honor of the two men who were instrumental in creating this group of athletes and friends of Rebel athletics. There will be a plaque installed at Bowsher above the many inductee plaques in the fall, when we will host a ceremony and reception to signify the change.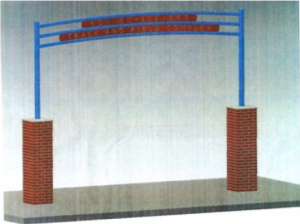 We are also in the process of naming the Track and Field Complex in honor of Ron Schlievert, longtime teacher and coach. As you can see in the photo below, the archway signifying this, the Ron Schlievert Track and Field Complex, will be a great entrance to the track and field for all Rebel athletes and their competitors, as it will be added to the gate already used near the locker rooms for all events held there. Ron spent countless hours working with athletes over his long tenure at Bowsher, and we feel that this is the perfect way to honor his time and commitment to the many Rebels he inspired through the years.
Of course, these projects come with a cost, and we need to raise $7500 for these endeavors. If you would like to donate to the cause, please do so using one of the two options below.
Send a check to Bowsher Athletic Hall of Fame (BAHOF) to: 3851 River Road, Toledo, OH 43614
Donate Online:
Donate Now
Watch the website for future information about the ceremonies and receptions to honor these three men, who were instrumental in building Bowsher Athletics. And thank you in advance for helping us to honor men who truly embody what it means to be a Rebel!
The Bowsher Athletic Hall of Fame Committee
Thank you to those of you who have already supported our project:
BHS class of 1983
Fred LaPlante
Art Weber
Beverly Myers
Margaret Myers
Jeff Kneisley
Gary Langel
Walter Celley
Jonathan McAfee
Donald Auxter
Rob Barnes
Dennis DeLucia
Eric Risner
Mark Gysan
Patrick Denman
Donald Mikolajczak
David St. Aubin
Paul Chapman
Mark Miller
David Fink
Don Wyper
Sam Rayner
Greg Wojciechowski
Harley Butler
The Makulinski Family Foundation
Tom Duncan
Tony Khoury
Bill Kepp
Rob Ludeman
Rob and Gary Kreft
Larry Papenfuss
Scott Kepp
Tim Kerwin
Neil Bersticker
Rob Barnes
Dave Schaetzke
Frank and Janice Polesovsky
Diane Klein Thorpe
Burt Rogers
Glassline Corp/Chuck Gottschalk, proprieter
Joe Johnoff/Johnoff Masonry Enerprises
Alro Steel
Caper's Pizza Bar
Meredith Party Rentals
Nicole Khoury
William Kepp
Mel Malak
Todd Frendt
Corey Darnell
Connie Darnell